সর্ব-শেষ হাল-নাগাদ: ১st অক্টোবর ২০১৯
---
চেয়ারম্যান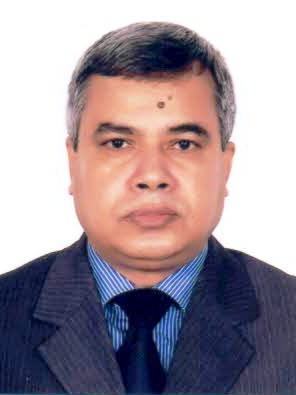 Highly experienced senior civil servant to the Government of Bangladesh who has demonstrated the ability to lead diverse groups of professionals and general mass to achieve desired success of the organizations. Having more than 32 years track records of profeciency in public administration, human resource and financial management. Proven ability to public policy formulation, implimentation, organizational modelling, innovation and improving culture in the public sector. Profecient in conducting parliamentary and local government elections. In depth knowledge in strengthening local government establishments specially upazila parishads, municipalities and union parishads. Moreover, long experienced and reputed in managing educational institutions, improving quality of education, arrest untimely dropouts, and conducting fair public examinations. Engaged in assisting government for introducing Annual Performance Agreement, Citizen's Charter in the public sector of Bangladesh. In addition, has led GIU for an innovation to child marriage problem In Bangladesh and set strategies for implementing this innovation nationwide. Presented papers and moderated many international seminars on Sustainable Development Goals (SDG) related topics.
EDUCATION
MBA (Management - Major in HRM) from University of Dhaka (2007)
MCom (Management) from University of Dhaka (1985)
WORK EXPERIENCES
Secretary In-charge, Ministry of Industries (8/2018 – Till Now)
Director General (Additional Secretary), Governance Innovation Unit, PMO (6/2012 –8/2018)
Joint Secretary (OSD), Ministry of Public Administration (11/2010 -5/2012)
Deputy Secretary, Ministry of Posts and Telecommunications(9/2008 – 10/2010)
Deputy Commissioner&District Magistrate, Magura(11/2006-8/2008)
Deputy Secretary(O&M), Ministry of Public Administration(4/2005-10/2006)
Deputy Director(Deputy Secretary), Anti-Corruption Commission(4/2003-3/2005)
Additional Deputy Commissioner, Chandpur (4/2001-3/2003)
Senior Assistant Secretary, Finance Division,Ministry of Finance(6/2000-7/2001)
Upazila Nirbahi Officer, Mohadevpur,Kawnia and Sadarpur Upazila(5/1994-5/2000)
General Certificate Officer, Sherpur Collectorate(4/1992-4/1994)
Assistant Commissioner/Assistant Commissioner(Land), Shibganj,Chapai Nawabganj(2/1986-3/1992)
Assistant Commissioner, Shibgonj Upazila Parishad, Chapai Nawabganj, (1987)
Assistant Commissioner, Chapai Nawabganj Collectorate, (1986)
TRAINING
Transformational Leadership for the 2030 Agenda , UNDP Global Centre for Public Service Excellence and Ministry of Foreign Affairs, Singapore from 19 to 23 June 2017
Government Performance Management System (GPMS) in Bhutan (Study Tour) 25 to 30 May 2016
Policy and Leadership Program for Senior Public Sector Executives in South and West Asia ,Australian National University (ANU), Canberra, Australia 28 November, 2015 to 5 December,2015
Conflict Resolution and Negotiation Techniques, Management Development Institute ,Singapore 30 July to 5 August,2015
Study visit to Performance Management and Delivery Unit (PEMANDU) and Finance Ministry of Malaysia for GPMS 13 May -15 May 2015
International Advanced Training Program on Public Service Management, Stockholm, Sweden305 and Beijing China, 2014
Training Course(Study Tour) on 56th Senior Staff CourseBeijing Administrative College,Beijing,China 23April-2 May,2012
Managing Change, Singapore Civil Service College, Singapore, 11 October-22 October,2009
Executive Development Program for Bangladeshi Officials, Local Government Development Institute,South Korea, 14 February-1 March, 2006
Senior Staff Course, Bangladesh Public Administration Training Centre(BPATC),Savar, Dhaka, 2011
Civil Service Training Program on Private Sector Devlopment, BPATC, 2009
Manging at the Top,BPATC,2009
ICT Training for Executives, Bangladesh Computer Council, Dhaka, 2005
Advanced Course on Administration and Development, BPATC, 2004
Project Formulation and Planning, Academy for Planning and Development(APD),Nilkhet, Dhaka,2001
Coastal Area Disaster Management,APD,1999
Disaster Management, BPATC,1998
FOREIGN TRAVEL/VISIT
Joined Award Program of UN Public Service Forum, Mauritius Morocco from 19 to 23 June 2018.
Joined Commonwealth Conference in United Kingdom from 16 to 22 April 2018 as a member of delegation of Honorable Prime Minister.
Republic of Korea, Japan, Malaysia, Thailand, People's Republic of China, Maldives, Singapore, Mexico, Sweden, India, Australia, Bhutan, Denmark, United States of America (USA), Kingdom of Saudi Arabia (KSA), United Arab Emirates (UAE).
PERFORMANCE RECOGNITION (AWARD)
Public service award ( As team leader of Governance Innovation Unit)
Recognition Award ( As team leader of Governance Innovation Unit) from High Commission of Canada for Governance Innovation Unit's contribution in preventing child marriage and gender based violence in Bangladesh